Q-Games
Company Message
Q-Games is operated out of Kyoto under the guidance of industry veteran Dylan Cuthbert.
Stunning visual aesthetic and high-quality sound design and audio exemplify the work of Q-Games, and we've got the tech and tools to make it happen.
We first gathered the attention of the industry at large with our work on the music visualizer and visual presentation of the PlayStation 3 operating system, which in turn garnered us recognition as a young studio with a bright future. We take pride in these high expectations, and have confidence in our ability to live up to them.
But for us it's not just a matter of producing entertaining games – we also want players to constantly feel that they're experiencing something resting on the cutting edge of technology. It's with this goal and conviction that we strive for excellence day in and day out.
Notable Creations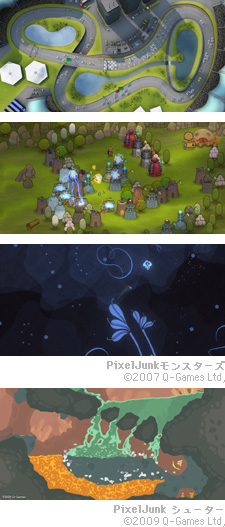 Star Fox Command

| | |
| --- | --- |
| Platform | NintendoDS |
| Genre | Shooting |
| Release Date (Japan) | 8/3/2006 |
| Published by | Nintendo |
©2006Nintendo
DIGIDRIVE

| | |
| --- | --- |
| Platform | GAMEBOY ADVANCE |
| Genre | Action-Puzzle |
| Release Date (Japan) | 7/27/2006 |
| Published by | Nintendo |
©2006Nintendo
PixelJunk Monsters

| | |
| --- | --- |
| Platform | PlayStation3 |
| Genre | Puzzle-Simulation |
| Release Date (Japan) | 12/6/2007 |
| Published by | Q-Games |
©2007 Q-Games Ltd,
PixelJunk Shooter

| | |
| --- | --- |
| Platform | PlayStation3 |
| Genre | Shooting |
| Release Date (Japan) | 12/10/2009 |
| Published by | Q-Games |
©2009 Q-Games Ltd,
X-RETURNS

| | |
| --- | --- |
| Platform | NintendoDSi |
| Genre | Shooting |
| Release Date (Japan) | 6/30/2010 |
| Published by | Nintendo |
©1992-2010 Nintendo
Company Outline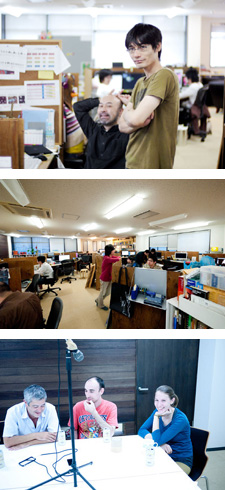 | | |
| --- | --- |
| Office Location | Arte Oike 3F, Oshinisinotouin-cho 612, Nakagyo-ku, Kyoto |
| Director | President & CEO: Dylan Cuthbert |
| Established | 2001 |
| Operating Capital | 3.2 million JPY |
| Number of Employees | 40 people |
| Primary Operations | Planning, creation, and development of computer software. |