HEXADRIVE Inc.
Company Message
"Creating digital content that taps into that sixth sense.
As our company name suggests, we were formed in February of 2007 with that very intent serving as the driving force.
HEXADRIVE stands out as a congregation of highly-skilled programmers with a experience in bringing a long list of AAA titles to market.
While certainly not limiting ourselves to developing for high-end hardware, utilizing this rich background has indeed been invaluable, as we've been able to develop the highly flexible "HEXAENGINE", allowing us to tackle multiplatform projects (PC/PlayStation 3/Xbox 360). Stepping outside of the mainstream console market, we also realize the importance of taking on new challenges, which is why we're also developing games and researching tech related to smartphone and other mobile devices, as well as the next generation of 3D visuals.
While we're a relatively small collective of professionals, having been able to draw the finest talent from the pool, this team in combination with our philosophy that, "A healthy environment breeds the best content" makes for a solid foundation for game creation.
And so we have ambitious goals as a member of GIPWest. We want to take the Kansai region and turn it into a hub which exemplifyies just what it is that makes games so compelling, taking advantage of this opportunity to work with local developers and creators who share that passion, cultivating it, and diffusing it throughout Japan and across the globe.
"Kansai Sweeping the Globe!" It's with this slogan in mind that we'll be energizing the local games industry the taking the world by storm!
Notable Creations

RezHD

| | |
| --- | --- |
| Platform | Xbox360 |
| Genre | Midnight-Sensation Shooting |
| Release Date (Japan) | 1/30/2008 |
| Published by | Q Entertainment Inc. |
©Q Entertainment Inc. ©SEGA
The 3rd Birthday

| | |
| --- | --- |
| Platform | PSP |
| Genre | Systematic Action RPG |
| Release Date (Japan) | 12/22/2010 |
| Published by | SQUARE ENIX CO., LTD. |
©SQUARE ENIX CO., LTD. All Rights Reserved.
CHARACTER DESIGN:TETSUYA NOMURA
HEXAENGINE
Platform
-
Genre
Multiplatform Game engine
(PlayStation®3 , Xbox360® , PC)
Release Date (Japan)
-
Published by
-
HEXAENGINE. Copyright© 2007-2010
HEXADRIVE Inc.All rights reserved.
Company Outline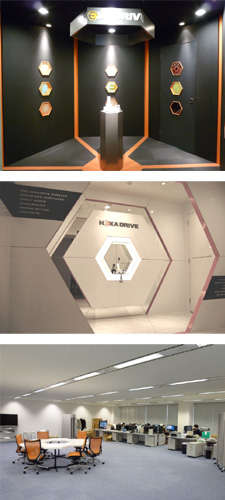 Office Location
2F, 1-6-6 Nishi Honmachi, Osaka
Director
President & CEO: Masakazu Matsushita
Established
02/2007
Operating Capital
10 million JPY
Number of Employees
26 people
Primary Operations
Computer game development, planning, and sales.
Digital content development and planning.
Company History

2/2007

HEXADRIVE established in Osaka, Japan.

1/2008

RezHD released for the Xbox 360.

11/2009

Development studio established in Minato-ku, Tokyo.

10/2010

The 3rd Birthday released for the PlayStation Portable.